Holographic products
Overview offered holographic products
Holograms are recognized worldwide as premier optical security and authentication devices.Holographic products are becoming more and more popular and widely used nowadays as a way of maintaining the authenticity of a product.The reasons for that are that modern printing and computer devices make it easy to replicate nearly any product – counterfeiters have now easily forged virtually every kind of paper document or package. Even the most sophisticated and refined printing techniques are not able to ensure protection from counterfeiting.However, hologram application can be considered as one of the best authentication tools due to the technologies that stand at the creation of hologram labeled documents and products. This can also be seen from the ubiquitous use of holograms for protecting cards, documents, valuable papers, brands, access control cards from being falsified.
Products Range:
– 2D/3D Hologram Sticker
– Deep 3D Hologram Sticker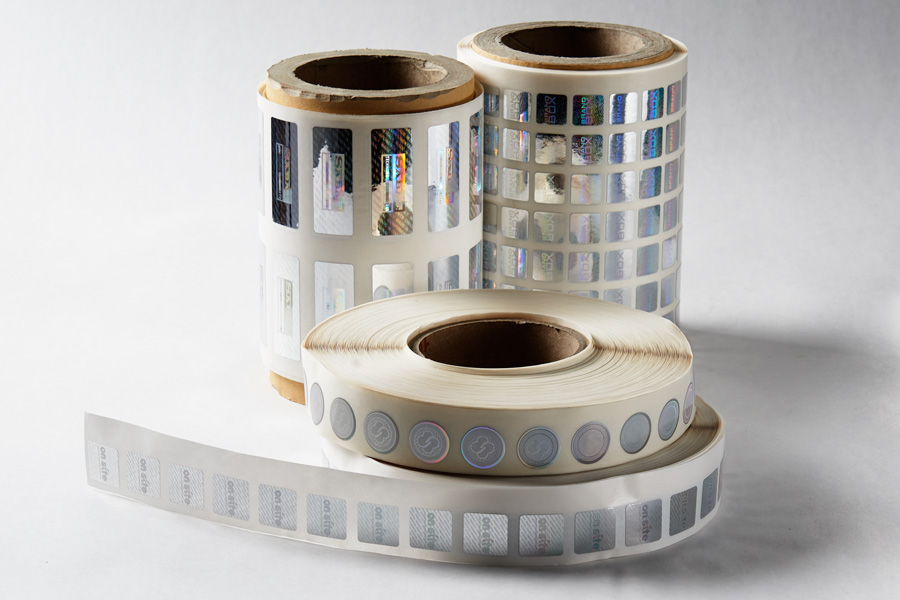 – E-beam Hologram Sticker
– Scratch-off Hologram Sticker
– Tamper Evident Hologram Sticker
– Decoder Image Hologram Sticker
– Demetallized Hologram Sticker
– Serial Number Hologram Sticker (Black or Transparent Laser Numbering).
– Micro-Text Embedded Hologram Sticker
– Nano-Text Embedded Hologram Sticker
– General Pattern Hologram Sticker
– UV Protected (Invisible Ink) Hologram Sticker
Features:
– 2D/3D, Dot-matrix, Deep 3D and E-beam technology

– Holographic effect with security and anti-counterfeiting characteristic
– Self-adhesive
– Good vivid and sparkling visual, easy to captivate 
consumer eyeball and increase market share
– Distinguish and protect your brand
– Upgrade your package, make your products high class
– Additional security function on the hologram sticker will shut the door upon counterfeiter
   (For example invisible ink, hidden image/text, laser numbering and etc.)
– Customization according to customers need

Specifications:
– Available in sheet or roll form
– Color: Gold, silver
– Base film: PET, 30 – 50 micron thickness
– Shape: According to customer needs
– Sticker Size: According to customer needs
Application:
– Tobacco

– Electronic
– Liquor
– Cosmetic
– Pharmaceutical
– Government
– Education
– Textile / Fabric
– Printing and Packaging
– Cash Voucher / Coupon Protection
– Document Protection
– Signature Protection
– Certificate Protection